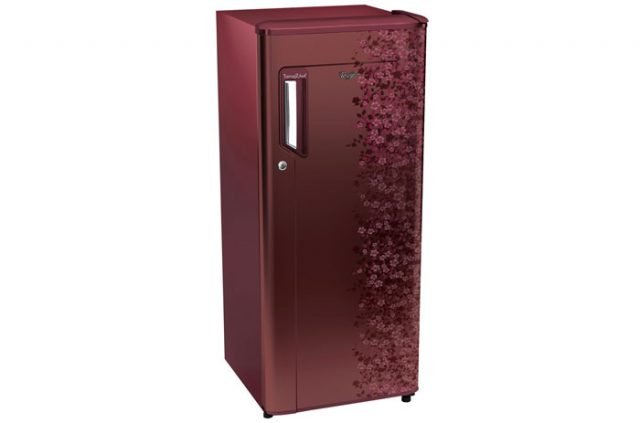 What are the single door refrigerator prices in Kenya? Single door refrigerators are suitable for small families or single people.
This is generally because they have less storage capacity compared to the double door counterpart. Most of the single door refrigerators in Kenya are budget friendly.
In addition to that, you get features such as egg trays, shelves (made of either glass or stainless steel), vegetable boxes and drinks compartment.
Brands include Armco, Whirlpool, LG, Samsung, Bruhm and Von Hotpoint. So here are the prices of single door refrigerators in Kenya. You can also check out best refrigerators under 20k or have a look at best refrigerators under 15k in Kenya.
Single Door Refrigerator Prices in Kenya:
| Refrigerator | Price |
| --- | --- |
| RAMTONS RF214- 1 Door Fridge - 90 Litres | KSh.16,500 |
| Von Hotpoint HRD-181B - Single Door Fridge - 6.5Cu.Ft - 160 Litres | KSh.24,000 |
| WHIRLPOOL WMD 205 WN - Single Door Fridge - 7.5Cu.Ft - 165 Litres | KSh.32,500 |
| ICECOOL BC-50 Fridge - 50 Litres Single Door | KSh.14,000 |
| RAMTONS RF158- 70L 1 Door Fridge- Silver | KSh.9,999 |
| Von Hotpoint HRD-201SL - Single Door Fridge - 170 Litres | KSh.25,000 |
| MIKA MRDCS50SBR - Single Door Refrigerator - 5 Cu.FT - 140Litres | KSh.17,000 |
| WHIRLPOOL WMD-200SL - Single Door Fridge - 160L | KSh.30,000 |
| ARMCO ARF-S127(SL) - Single Door Refrigerator - 5Cu.Ft - 142 Litres | KSh.18,000 |
| RAMTONS RF215 - 1 Door Fridge - 90 Litres | KSh.17,000 |
| | |
The Following are the Latest Single Door Refrigerators in Kenya:
RAMTONS RF214- 1 Door Fridge - 90 Litres

Price
KSh. 16,550
Color
White
Refrigerator Type
Single Door
Energy Rating
4 Star
Capacity
90 Liters
Dimensions
45 x 49.5 x 79 cm
Weight
22.19 Kgs
Door Lock
Yes
Temperature Control
Yes
Warranty
1 Year
Other Features
Direct Cool, Wire tray shelf
Pros
CFC Free, Can holder
Cons
Color
Discount Price
View This Latest Price
Von Hotpoint HRD-181B - Single Door Fridge - 6.5Cu.Ft - 160 Litres

Price
KSh. 24,500
Color
Black
Refrigerator Type
Single Door
Energy Rating
5 star
Capacity
160 litres
Dimensions
NA
Weight
60 kgs
Door Lock
Yes
Temperature Control
Yes
Warranty
1 year
Other Features
Egg tray, Ice tray
Pros
Energy efficiency, Price, Design
Cons
None
Discount Price
View This Latest Price
WHIRLPOOL WMD 205 WN - Single Door Fridge - 7.5Cu.Ft - 165 Litres

Price
KSh. 32,900
Color
Red
Refrigerator Type
Single Door
Energy Rating
5 star
Capacity
165 litres
Dimensions
NA
Weight
45 kgs
Door Lock
Yes
Temperature Control
Yes
Warranty
1 year
Other Features
Large Freezer Compartment, Toughened Glass Shelves
Pros
Design
Cons
No
Discount Price
See This Latest Price
ICECOOL BC-50 Fridge - 50 Litres Single Door

Price
KSh. 14,000
Color
Silver
Refrigerator Type
Single Door
Energy Rating
4 star
Capacity
50 litres
Dimensions
NA
Weight
22 kgs
Door Lock
Yes
Temperature Control
Yes, Thermostat
Warranty
1 year
Other Features
Tempered glass frame shelf, High density foaming layer, Low noise, low energy consumption
Pros
Pricing, Design, Energy saving
Cons
None
Discount Price
View This Latest Price
RAMTONS RF158- 70L 1 Door Fridge- Silver

Price
KSh. 9,999
Color
Silver
Refrigerator Type
Single Door
Energy Rating
3 Star
Capacity
70 Litres
Dimensions
64.8 x 51 x 46.5cm
Weight
14.1 Kgs
Door Lock
Yes
Temperature Control
Yes
Warranty
1 Year
Other Features
Automatic time defrost, Wire tray shelf, Ice cube tray, Reversible door
Pros
Can holder, Energey Efficient
Cons
Small for Some People
Discounted Price
View This Latest Price
Von Hotpoint HRD-201SL - Single Door Fridge - 170 Litres

Price
KSh. 25,900
Color
Silver
Refrigerator Type
Single Door
Energy Rating
4 star
Capacity
170 litres
Dimensions
NA
Weight
35 KGS
Door Lock
Yes
Temperature Control
Yes
Warranty
1 year
Other Features
Tampered glass shelves, Large vegetable box,
Pros
Chiller compartment, ce tray
Cons
None
Discount Price
Check Current Price
MIKA MRDCS50SBR - Single Door Refrigerator - 5 Cu.FT - 140Litres

Price
KSh. 17,500
Color
Silver Brushed
Refrigerator Type
Single Door
Energy Rating
3 star
Capacity
140 litres
Dimensions
NA
Weight
25 KGS
Door Lock
Yes
Temperature Control
Yes
Warranty
12 months
Other Features
Vegetable box, egg and ice tray, glass shelves
Pros
Priceing, Energy efficiency, Design
Cons
Relatively small
Discount Price
View This Latest Price
MIKA MRDCS50DS - Single Door Refrigerator - 5Cu.Ft - 140 Litres

Price
KSh. 17,500
Color
Silver (dark)
Refrigerator Type
Single Door
Energy Rating
3 star
Capacity
140 liters
Dimensions
NA
Weight
23 KGS
Door Lock
Yes
Temperature Control
Yes
Warranty
1 year
Other Features
High voltage tolerant, CFC Free, Glass Shelves, Egg and ice tray
Pros
Design, Energy usage
Cons
None
Discount Price
Check This Latest Price Deal
Bruhm BRS 203P - Single Door Refrigerator - 6Cu.Ft - 170 Litres

Price
KSh. 24,500
Color
Floral Pattern
Refrigerator Type
Single Door
Energy Rating
4 star
Capacity
170 litres
Dimensions
NA
Weight
22 KGS
Door Lock
Yes
Temperature Control
Yes
Warranty
1 year
Other Features
Interior Light, Durable and easy-to-use
Pros
Energy usage, Pricing
Cons
None
Discount Price
Check This Price Deal on Jumia
WHIRLPOOL WMD-200SL - Single Door Fridge - 160L

Price
KSh. 29,900
Color
Silver
Refrigerator Type
Single Door
Energy Rating
5 Star
Capacity
160 litres
Dimensions
NA
Weight
20 kgs
Door Lock
Yes
Temperature Control
Yes
Warranty
1 year
Other Features
Egg Tray Provided, Toughened Glass Shelves, Multi-Utility Box
Pros
Pricing, Energy usage
Cons
None
Discount Price
See This Latest Price
ARMCO ARF-S127(SL) - Single Door Refrigerator - 5Cu.Ft - 142 Litres

Price
KSh. 18,225
Color
Silver
Refrigerator Type
Single Door
Energy Rating
3 star
Capacity
142 litres
Dimensions
NA
Weight
22 gs
Door Lock
Yes
Temperature Control
Yes, Thermostat
Warranty
3 years
Other Features
Power cut Ever cool: upto 9 Hours
Pros
Fast Ice Making, Design, Warranty period, Energy saving
Cons
Nope
Discount Price
View This Latest Price
ICECOOL BC-92 Fridge - 92 Litres

Price
KSh. 14,500
Color
Silver
Refrigerator Type
Single Door
Energy Rating
3 star
Capacity
92 liters
Dimensions
48 x 45 x 82 CM
Weight
19 kgs
Door Lock
Yes
Temperature Control
Yes, Thermostat
Warranty
1 year
Other Features
High density foaming layer, High efficient compressor, Tempered glass frame shelf
Pros
Pricing, Design
Cons
None
Discount Price
Check This Latest Price Deal
RAMTONS RF215 - 1 Door Fridge - 90 Litres

Price
KSh. 17, 000
Color
Silver
Refrigerator Type
Single Door
Energy Rating
4 Star
Capacity
90 liters
Dimensions
NA
Weight
22.19 KGS
Door Lock
Yes
Temperature Control
Yes
Warranty
1 Year
Other Features
CFC Free, Direct Cool
Pros
Energy Savings, Price
Cons
None
Discount Price
View this Jumia Deal
Bruhm BRS 95x - Single Door Refrigerator - 4Cu.Ft - 95 Litres

Price
KSh. 15,000
Color
Silver
Refrigerator Type
Sinle Door
Energy Rating
4 star
Capacity
95 litres
Dimensions
NA
Weight
22 kgs
Door Lock
Yes
Temperature Control
Yes, With thermostat
Warranty
1 year
Other Features
Direct Cooling, Adjustable Legs, Low Noise
Pros
Pricing, Design, Energy usage
Cons
None
Discount Price
View This Latest Price
ARMCO ARF-S127(B) - Single Door Refrigerator - 5Cu.Ft - 142 Litres

Price
KSh. 17,495
Color
Black
Refrigerator Type
Single Door
Energy Rating
3 star
Capacity
142 liters
Dimensions
NA
Weight
22 kgs
Door Lock
Yes
Temperature Control
Yes
Warranty
3 years
Other Features
Fast Ice Making
Pros
Energy saving, Design, Cost
Cons
None
Discount Price
Check This Latest Price Deal
Those were just a few samples of the fridges. You can check out: