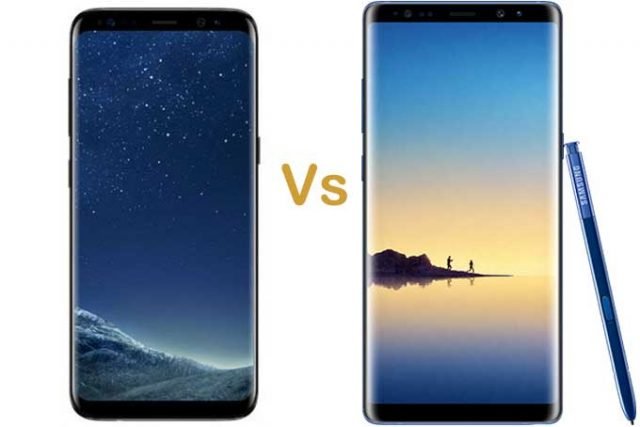 What is the difference between Samsung Galaxy Note 8, Samsung Galaxy S8 and Samsung Galaxy S8 Plus?
Here, we'll look at the different specifications that the three devices come with and recommend which ones to buy in Kenya.
Also see: Samsung Galaxy Phone Prices in Kenya
The Following are the main differences between the Samsung Galaxy Note 8, the Samsung Galaxy S8 Plus and S8: Comparison in 2017:
Screen Differences and Similarities
When it comes to the display size, the Note 8 has the largest. Though very slightly when compared to the S8 Plus. The Note 8 by Samsung Has 6.3 inches, the S8 Plus has 6.2 inches while the Galaxy S8 has 5.8 inches.
Since the resolution of the three devices is the same, the pixel density is higher from the smallest screen size to the largest. The S8 has 570pp, the S8 Plus has 529pp while the Note 8 has 522ppi.
Camera
The Note 8 has a dual camera at the rear. You get 12 megapixels. It has features such as LED Flash, Autofocus, and panorama just to mention a few. The S8 and S8 plus both have the same 12 megapixels camera. Though they are nit dual.
The selfie cameras are the same. Both have 8 megapixels. Since the Note 8 has just been released, it is way better than the S8 and S8 Plus.
Battery Capacity
Samsung have treated carefully this time round. With the Galaxy Note 8, you get 3300mAh battery capacity. The S8 plus has 3500mAh while the S8 has 3000mAh.
All these phones can last the whole day without requiring a recharge. As long as they are used moderately.
It is however important to note that the Galaxy Note 8 has a superior fast charging capability compared to the other two.
Stylus
Business people in Kenya will definitely like the Samsung Galaxy Note 8. This is because it comes with the stylus pen for taking notes, sketches and many other functionalities.
Performance
Expect the performance of the devices to be almost the same. This is because they both use the same Qualcomm Snapdragon processor. The 835.
When it comes to multi-tasking, the Galaxy Note 8 has the edge. The standard one comes with 6GB of RAM. The versions of the S8 and S8 Plus in Kenya have only 4GB. Therefore, the Note 8 is more capable here.
Pricing
All these devices are expensive. They all cost North of 84k in Kenya. However, since the Samsung Galaxy Note 8 is new in the market, expect the cost to be around KSh 100,000.
Again, this device is meant mainly for business people who want to be productive all the time even when on the move.
Samsung Galaxy Note 8 VS Samsung Galaxy S8 Plus Vs S8 Specifications Comparison
| | Samsung Galaxy Note 8 | Samsung Galaxy S8 Plus | Samsung Galaxy S8 |
| --- | --- | --- | --- |
| Display size, resolution | 6.3-inch; 2,960x1,440 pixels | 6.2-inch; 2,960x1,440 pixels | 5.8-inch; 2,960x1,440 pixels |
| Pixel density | 522 ppi | 529 ppi | 570 ppi |
| Dimensions (Inches) | 6.4x2.9x0.34 in | 6.3x2.9x0.32 in | 5.9x2.9x0.31 in |
| Dimensions (Millimeters) | 162.5x74.8x8.6 mm | 159.5x73.4x8.1 mm | 148.9x68.1x8 mm |
| Weight (Grams) | 195g | 173g | 155g |
| Mobile software | Android 7.1.1 Nougat | Android 7.0 Nougat | Android 7.0 Nougat |
| Camera | Dual 12-megapixel | 12-megapixel | 12-megapixel |
| Front-facing camera | 8-megapixel | 8-megapixel | 8-megapixel |
| Video capture | 4K | 4K | 4K |
| Processor | Octa-core Qualcomm Snapdragon 835 (2.35GHz+1.9GHz) or Octa-core Samsung Exynos 8895 (2.35GHz+1.7GHz) | Octa-core Qualcomm Snapdragon 835 (2.35GHz+1.9GHz) or Octa-core Samsung Exynos 8895 (2.35GHz+1.7GHz) | Octa-core Qualcomm Snapdragon 835 (2.35GHz+1.9GHz) or Octa-core Samsung Exynos 8895 (2.35GHz+1.7GHz) |
| Storage | 64GB | 64GB | 64GB |
| RAM | 6GB | 4GB | 4GB |
| Expandable storage | Up to 2TB | Up to 2TB | Up to 2TB |
| Battery | 3,300mAh | 3,500mAh | 3,000mAh |
| Fingerprint sensor | Back cover | Back cover | Back cover |
| Connector | USB-C | USB-C | USB-C |
| Special features | S Pen stylus, water resistant (IP68), wireless charging; Gigabit LTE-ready | Water resistant (IP68); wireless charging, Gigabit LTE-ready | Water resistant (IP68); wireless charging; Gigabit LTE-ready |
| Price in Kenya | KSh100,000 Order Now! | KSh95,000 Order Now! | KSh84,000 Order Now! |
See these Samsung Phone Deals at Jumia