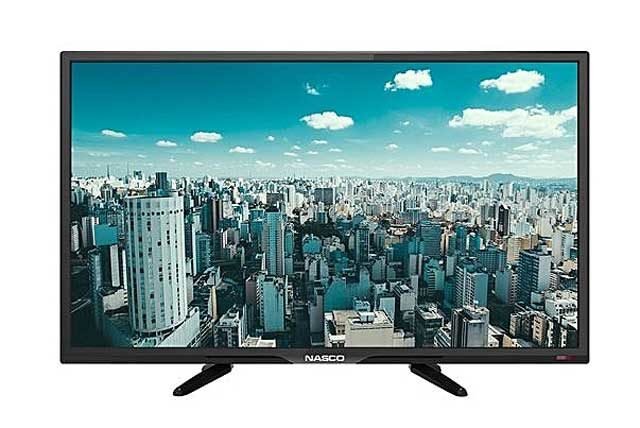 The Nasco E40D9200, is among the best 40 inch tv, that come at a budget. Here, we'll look at the Nasco E40D9200 review, its specifications and price in Kenya. TVs have come a long way. There was a time a television used to cost, things have changed. Though not a household name, Nasco, is one of the reliable television brands that you can purchase in Kenya. In addition to that, they come at a cheap price, compared to similarly "featured" tvs in the country.
See: Best Flat Screen TVs Under 20k in Kenya in addition to the best 40 inch TV Prices in Kenya.
Nasco E40D9200 - 40 - Digital DVB-T2S2 - HD LED TV


Check This Latest Price
Price
KSh 22,000
Display Size
40 inches
Resolution
1366 x 768
Digital TV
Yes DVB-T2
Smart TV
No
HDMI Ports
3
USB Ports
1
Refresh Rate
60Hz
Viewing Angle
178 degrees
Audio
6 x 2 watts
Weight
4.84 kgs
Pros
Price
Cons
None
The Nasco E40D9200 Display Size
This television, comes with a 40 inch display. Now, with 40 inches, comes various advantages. You are more immersed when watching movies and shows on the device. This big size, lets admit it, also looks good in the house in addition to giving you the bragging rights of having a big television while your neighbors have those 22, 24 or 32 inches "small" TVs.
Picture Quality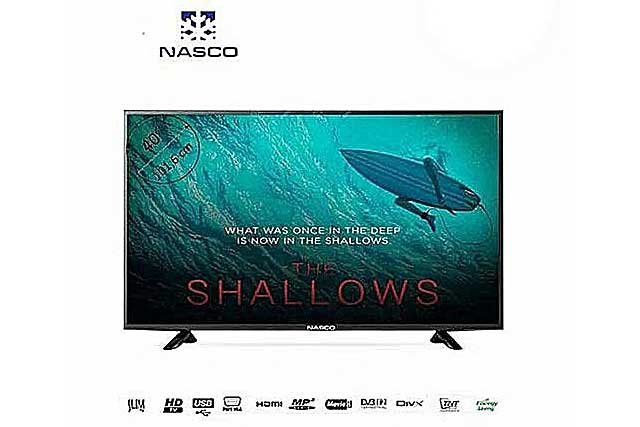 One of the factors that many people look at when buying a new tv, is the picture quality. Even with models that are quite affordable, you'll still get very good quality. The Nasco E40D9200, comes with a display resolution of 1366 x 768 pixels. What this translates into is a good image quality.
In addition to that, most movies and tv shows are broadcast in this resolution or less, especially in Kenya. This means that when the channels in Kenya such as increase their broadcast resolution, you'll still get to enjoy good quality on your device.NTV, Citizen and KTN
With this Nasco TV, you also get an image processing engine. This is responsible for ensuring that the color reproduction in the device is as close to as possible to what the producers want you to see. You get high contrast ratio and good color reproduction.
Design
Another feature that you should consider, is the design of the television. And when it comes to design, this Nasco E40D9200, checks all the boxes. The TV has a thin profile. In fact, it is thinner than most tv models in Kenya. This make it look sleek in your living room.
Audio Processing
Audio, just live video quality, is another important feature that this tv set stands out in. You get stereo speakers in the TV. This ensures that you get the best possible sound quality from the TV. No matter the position you are sitting in in the living room.
Audio Features include:
MAX Audio Output (RMS): 2 x 6watts
Dolby Digital
Automatic volume level (AVL)
Sound Equalizer
Digital Tuner
If being affordable is one feature of this tv, another great feature is that it saves your money. This is because it comes with a built in digital tv tuner. This digital receiver, enable you to watch the free to air tv channels in Kenya.
Therefore, you won't have to spend more money buying an external decoder to watch your favorite channels.
Connectivity and Ports
Honestly, I was surprised by the number of ports this flats screen tv set has. You get 3 HDMI Ports, 1 USB Port, Components Ports, VGA and Audio Jack.
With the USB port, you can enjoy movies and music from your television set from a flash disk. The HDMI Ports also enables you to connect other electronic devices to the TV. You can connect a Home Theater, DVD and even a phone is you have an adapter.
HDMI: 3
USB: 1
AV Input (Audio & Video): 1
Component Input (YPbPr): 1
RF Tuner: 1
VGA Input: 1
Nasco E40D9200 Disadvantages
Honestly, this tv is one of the best and affordable big flat screens that you can buy in Kenya. The only disadvantage that this flat scree has is the fact that it only comes in one color, which is black. I wish it added another color option like silver or brushed aluminum.
In conclusion: I can highly recommend buying the Nasco E40D9200 flat screen because of the many advantages that you'll get.
You can also take a look at Sony TV Prices in Kenya in addition to the Latest Price List of Samsung Flat Screen TVs in Kenya.