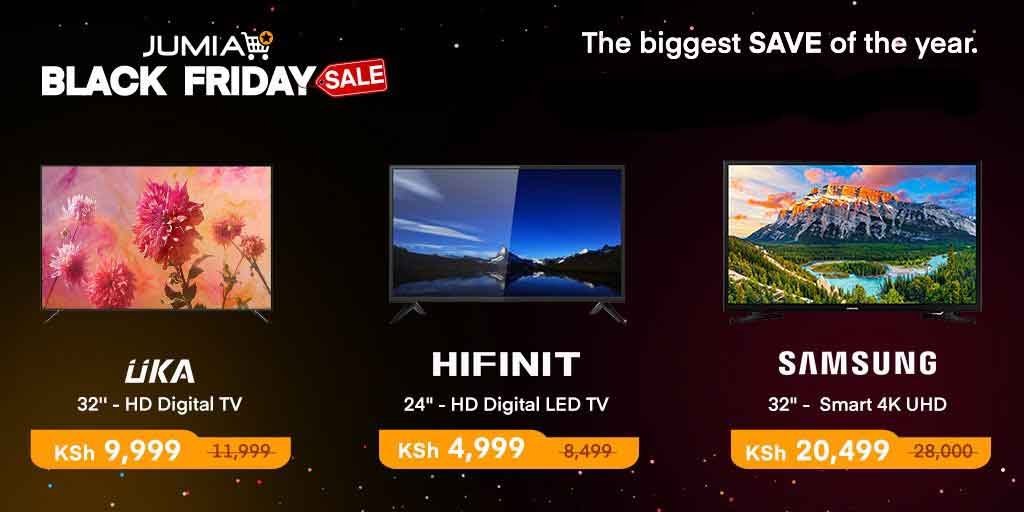 With the Jumia Kenya Black Friday fast approaching, we have listed down the best television deals available. The black Friday event runs from Friday the 8th of November and will last one month.(The Whole of November) You should expect massive discounts from brands such as UKA, HIFINIT, Samsung, Vision Plus, Nasco, Samsung, Sony, TCL and LG. Additional Black Friday TV deals offered by Jumia include Skyworth, Lightwave and Hisense.
Black Friday Samsung TV Prices
For Samsung televisions, the price during black Friday is KSh 20,499. This is for a 32-inch model 4K model. A 4k UHD Samsung tv going for 20k!!!!!!! you wont find a better deal anywhere. However, expect discounts on other sizes of around 30%. In addition to that, you can use a voucher to further bring down the price. Check out our list of the prices of Samsung televisions in Kenya.
Black Friday UKA TV Prices:
One of the best TVs that has made its entry into Kenya is UKA. These televisions are one the best that come at an affordable price, with very good quality. Even though these TVs are made by UKA, the Flat screen display panel they use is made by Sony. Therefore, you'll be getting the same quality.
Vision Plus
Slowly but surely, this brand is building its name in Kenya. They are one of the most budget friendly televisions in Kenya. The 32 inch flat screen LED models start off at around KSh 11,999. To get a similar sized model from other brands in Kenya, you will have to fork out 10k more.
This black Friday you get even further price reduction using vouchers.
Sony
These televisions have around KSh. 3,000 discount. This translates to around 10 to 20% percent depending on the model, size and features. However, it is important to note that majority of the deals are for 32 inch models. Please check out best Sony TV Prices in Kenya.
Royal TVs in Kenya
These televisions will be on sale from KSh 9,999. For a 40-inch model, that is a very fair price. This one has a resolution of 1920 x 1080 pixel. Therefore, you can enjoy high quality entertainment. Though it is not a well-established brand, the television is totally worth ordering.
LG Flat Screen TV Black Friday Discounts.
Just like Samsung, LG Televisions are one of the most reliable in Kenya. For that matter, during black Friday, discounts of up to 80% percent are being offered by Jumia. There is a wide selection of flast screen sizes, from 32 inches up to 65 inches. Also, you can use vouchers by spinning the Jumia wheel of fortune.
Other TVS
Other televisions are also discounted during this period. These include, Skyworth, TCL. Hisense and Digitel.
SEE THESE BEST TV DEALS IN KENYA
These are the Jumia Kenya Black Friday TV deals, Offers, Prices and Discounts in 2019:
| Television | Black Friday Price |
| --- | --- |
| | |
| Sony R300E - 32" - Digital HD LED TV | KSh. 21,000 Check Latest Price |
| Lightwave E3211-ST2 - 32" - LED Digital TV | KSh. 16,999 Check Latest Price |
| Teqworld G40Z - 40" - HD Digital LED TV | KSh. 29,650 Check Latest Price |
| Teqworld G32Z - 32" - HD Digital LED TV | KSh. 19,500 Check Latest Price |
| Digitel WG40NT888LA - 40" - HD Digital LED TV | KSh. 29,950 Check Latest Price |
| SKYWORTH 32E2000 - 32" - HD LED Digital TV | KSh. 21,999 Check Latest Price |
| Digitel WG24NT888LA - 24" HD Digital LED TV | KSh. 15,999 Check Latest Price |
| Lightwave S5518 T2 - 55" - Full HD LED Digital Smart TV | KSh. 59,399 Check Latest Price |
| Samsung UA32K4000AK-32"- HD Digital TV - Series 4 | KSh. 24,000 Check Latest Price |
| Samsung UA40J5000/K5000 - 40" - Series 5 - Digital Full HD LED TV | KSh. 43,999 Check Latest Price |
| LG 32LJ520U - 32" - Digital TV - Black | KSh. 24,399 Check Latest Price |
| LG 43LH548V/549/541 - 43" - Full HD LED TV | KSh. 47,999 Check Latest Price |
| Sony 43X8000D - 43" - 4K HDR Smart TV - Black | KSh. 99,999 Check Latest Price |
| Nobel NTV40LEDS - 40" Smart Digital LED TV | KSh. 36,999 Check Latest Price |
| Sony BRAVIA - 40W650D - 40" - Full HD Digital Smart TV | KSh. 52,999 Check Latest Price |
| TCL 32D2910S/2900/4900/2710 - 32" - Full HD Smart Digital LED TV | KSh. 21,999 Check Latest Price |
| LG 24MT48VF-Z - 24" - LED Digital HD TV | KSh. 16,800 Check Latest Price |
| LG 43LH548/549V /LJ510V - 43'' - Full HD LED Digital and Satellite TV | KSh. 49,999 Check Latest Price |
| StarTimes E24M36HH - 24" HD Digital LED TV | KSh. 18,999 Check Latest Price |
| TCL 24D2710 - 24"- HD Digital LED TV | KSh. 15,999 Check Latest Price |
| MCTV MCTV3210 - 32" - HD LED Digital TV | KSh. 25,000 Check Latest Price |
| Samsung 55KU7350 - 55' - 4K Curved UHD Smart LED TV | KSh. 127,000 Check Latest Price |
Take a look at:
Jumia Black Friday Laptop Prices
Black Friday Phone Deals and Prices