As far as gaming laptops in Kenya go, the HP Omen 17 is a good contender for the best one. It comes with a display real estate of 17.3 inches, this ensures that the gaming experience is immersive.
What really stands out in this gaming laptop is the display quality, with a choice of 4K display or a HD one.
The processor options of the HP Omen 17 in Kenya also comes in twos, a 6th or 7th generation Intel Core i7. The laptop also comes with a ton of security features, Nvidia GeForce GTX 1070 GPU and 16GB of RAM.
Take a look at other Gaming laptops at Jumia Kenya.
---
Price
The HP Omen 17 is expected to start at around Kshs 190,000 in Kenya. You can check out the deal at Jumia Kenya.
---
Key Features
Listed below are the key features of the HP Omen 17
CPU: 2.6 Ghz Intel Core i7 6700HQ (quad-core, 6MB cache, up to 3.5GHz with TurboBoost)
Graphics: Nvidia GeForce GTX 1070 (8GB GDDR5 RAM), Intel HD Graphics 530
RAM: 16GB (DDR4 2133 MHz)
Screen: 17.3-inch 4K (3,840 x 2,160) G-Sync screen
Storage: 256GB SSD; 1TB HDD (5,400 rpm)
Optical drive: External USB DVD-RW
Ports: 3 x USB 3.0 ports, HDMI, DisplayPort, SD card
Weight: 3.18Kgs
Size: 41.6 x 27.8 x 3.3 cm (W x D x H)
Build Quality and Design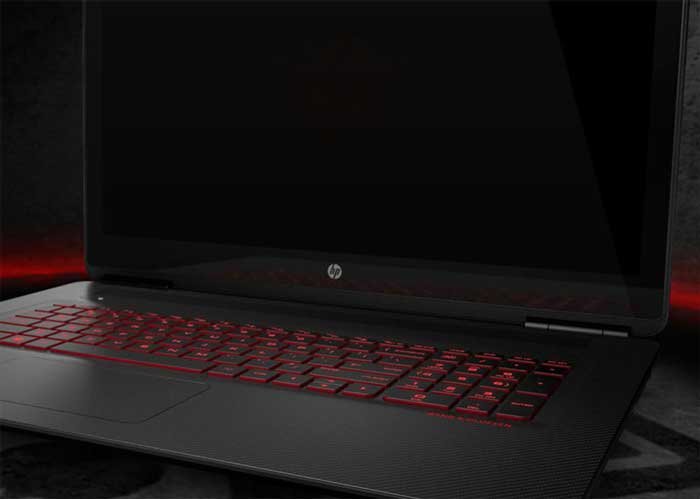 At over 17 inches, this laptop is in the BULKY category. It might not be convenient to carry around in a laptop bag. However, it can serve as a replacement to a desktop computer in the house. This is appropriate if the HP Omen 17 laptop will be regularly moved from room to room.
Speaking of the size, the Omen 17 is larger than most gaming laptops at this price range in Kenya. The size of the beast is what you notice first before any other thing. Just as they say, first impressions matter, and what that impression brings about is performance.
However, the weight is un-proportionately small when compared to its size.
The Keyboard is a full sized one; it has a red backlight which has come to symbolize gaming in the recent years.
Overall: the finish is definitely premium, nonetheless, it might be conservatively designed depending on who you ask. (This is a subjective matter).
The subjective matter is as a result of the lack of sharp angles and aggressive lines normally present in other gaming laptops.
Design was really not a major "façade" that they were focusing on, however the performance is where the Omen 17 makes a lot of noise in Kenya. the focus was purely on the screen, graphics and storage.
Display
Gigantic is one word I can use to describe the screen, 4K is another. Coming in at 17.3 inches, the display leads to an immersive gaming experience, which can only be found in large monitors.
HD IS 1920 X 1080 while ULTRA HD IS 3849 X 2160
With G-Sync, tearing is noticeably absent—this is also another strength of this laptop compared to the ones released in Kenya in 2016 and 2015.
HP Omen 17 Performance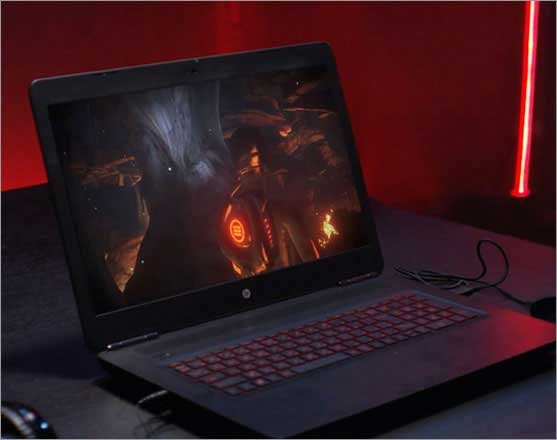 At the price point, and taking into consideration value for money, the HP Omen 17 is a quality gaming laptop in Kenya.
Two options exist here when it comes to the processor. The first is an Intel Core i7 6th Generation and the other is 7th Gen. Your budget will determine the options.
This time, three options exists for the Omen 17 Graphics card.
Nvidia GeForce GTX 1070: 8GB dedicated memory
Geforce GTX 1060: 6GB dedicated memory
Nvidia GeForce 965M: 4GB graphics memory.
The 1st one is the most expensive while the third is the least expensive.
Just like above, storage options are also available. According to your liking you can either go for 256SSD 1TB or 512SSD 2TB. These will largely depend on the number of games you have. I suspect that the next iteration of GTA will be over 100GB. You only need 10 of these to fill up the lower capacity one.
Therefore, for future proofing, it's better to settle for the more expensive choice of 2TB.
Also let us not forget about the RAM. This has majorly been assumed since RAM has become so cheap in Kenya in the recent past. In the OMEN is a 16GB DDR4 RAM, which is the bare minimum for maximum game immersion and multi-tasking.
Ports
There is a decent number of ports, though they did not go overboard in the provisions. USB Type A ports are three.
An HDMI port also exists with a mini display port also complementing the HP laptop
Other ports include mic, headset, SD card reader, Gigabit Ethernet. However, it does not come with Thunderbolt 3 which almost all the premium gaming laptops in Kenya have.
Availability
The HP Omen 17 is not yet available in Kenya. It will be available at Jumia for not less than Kshs 200,000.
SEE THIS PRICE AT JUMIA KENYA
Full Features
Here are the features of the HP Omen 17
General
---
OS: Windows 10
Color: Black
Dimension: 6 x 27.8 x 3.3 cm
Weight:85 and over
Bang & Olufsen
HP CoolSense
Nvidia G-Sync Technology
Processor
---
6th Generation Intel Core i7 or
7th Generation Intel Core i7
GPU
---
Nvidia GeForce GTX 1070 8GB or
GeForce GTX 1060 6GB or
Nvidia GeForce 965M 4GB
Display
---
Size: 17.3 inches
Resolution: 1920 x 1080 or 3840 x 2160
LED screen
Backlit
Keyboard
---
Full sized
Back lit
Red
Multi gesture support
Storage
---
1TB HDD 256 SSD or
2TB HDD 512GB SSD
Optical drive
Ports
---
USB: 3 USB ports
HDMI
Mini display port
Ethernet
Headphone jack
WLAN Wi-Fi 802.11 g/g/n/ac
Bluetooth 4.2
True Vision Webcam
---
Other Hp laptops in Kenya
Gaming laptops in Nairobi