HP laptops are known for their durability and affordability. You can have a wide variety of options to choose from in this range of laptops.
The HP 17 in Kenya provides options a lot of options to pick from. This is due to the fact that you can pick out your specs at various price points- this is enabled because of the different options.
With a screen real estate of 17 inches, the laptop is effective for office work since it might not be the most convenient to carry around.
---
Jumia: CLICK TO SEE OFFERS
---
HP 17 Key Features
Processor: AMD A-Series or Intel Core i3/i5/i7 Processor
GPU: AMD Radeon or Intel HD Graphics or AMD Radeon dedicated Graphics
Windows 10 Home/ Pro
Screen size: 17.3-inch LED Display
RAM: 4GB, 8GB, 16GB RAM-up to 16GB RAM in two slots)
Storage Options: 500GB HDD, 1TB HDD, or 2TB HDD
Drive: Integrated DVD Writer
Battery Life: Up to 7 hours 45 minutes Battery Life- depending on usage
Design & Build
With this laptop, HP decided to go with the minimalistic approach. Nothing here that really breaks the norm and draws attention.
You get a brushed aluminum body finish and a great keyboard to go with. The travel of the keyboard is also perfect for typing and playing games.
Though the screen is large, at 25mm thick, the HP 17 feels smaller and lighter than some of the laptops with the same screen real estate.
Now, it only weighs a meagre, 2.7 Kgs. I would say this is just perfect since there are laptops of 15.6 inches that way more than that with almost 300grams.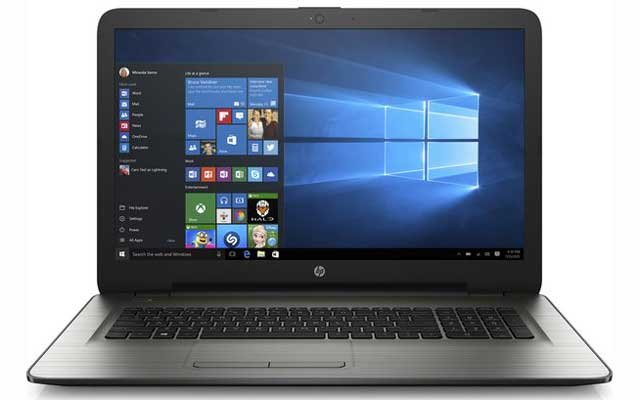 Another great thing about it, is that you will also get a numeric keypad. This is quite appropriate for those who use the PC for doing calculations or have assigned shortcuts to the numeric part.
Display
The screen is massive at 17.3 inches. I usually prefer laptops around the 15.6 inch mark but that won't make any difference to you now since it weighs less than some of those other laptops.
Talking about the resolution, it is 1600 by 900 pixels. Though this might not be that great when compared to premium displays, at the price point, you get value for your money.
However, the 1080p is display is appropriate for watching movies, playing games and even browsing the internet.
HP 17 Performance
In this sector, there are various options available. You can either go with AMD A Series or the intel processors.
If you choose the AMD APU, you also get an integrated AMD Radeon R4 or R5 GPU. This is great for general gaming and running graphics intensive games.
Going the Intel way, if you decide to buy the Intel Core CPU variants, you also have the option for an AMD Radeon dedicated GPU. Also, the processors are either last year's 6thh generation or the current generation.
When it comes to multitasking, there is the 8GB of RAM. Therefore, you won't have slow program switching and launching. To add to that, you can also run many programs at the same time and don't feel bogged down by unresponsiveness.
The good thing about RAM is that you can increase a few more numbers if you are not satisfied with what you are getting. With that, the maximum supported is 16GB DDR4.
Operating System
HP 17 in Kenya runs Windows 10 Operating system, with this, you have the latest in terms of security and improvements in user interface. Also, the operating system updates itself automatically so you don't have to worry about updates*.
Now, the normal standard ports are available for this laptop. These include a HDMI Port, 1 USB 3.0, two 2.0 ports, a card reader and a card reader.
Coming to the storage options, there is also variety here. Firss the minimum amount of internal storage you can get is 500 GB while the maximum is 2TB. There is even an option for an SSD. So if you have the resources, you should definitely buy SSD.
HP 17 Price in Kenya
When the HP 17 laptop becomes available in Kenya, ensure you don't miss out on the great deals here. The price will start from KSh. 50,000. CLICK TO SEE OFFERS
Full Specifications of the Laptop
Below are the full features of HP 17 Notebook
General
---
Windows 10
AMD/Intel Processors
AMD Radeon GPU
4GB/8GB/16GB RAM
Dimensions: 7 x 27.9 x 2.49 cm
Weight: From 2.66 Kgs
Display
---
Screen size of 17.3 inches
LED Display
1600 x 900 pixels or 1920 by 1080
Anti-glare option
Keyboard & Touchpad
---
Full sized
Numeric Keypad
Not backlit
Multi gesture touchpad
Battery
---
41WH
Lithium Ion battery
4 Cell
7 hours 45 minutes battery life* depends on usage.
---
OTHER HP LAPTOP PRICES IN KENYA