Hotwav V20 was released in 2016 and comes with a 5.7-inch display. The mobile phone comes with 32GB of storage and also has 4G LTE connectivity. Hotwav V20 price starts from Kshs 8,000.
Specifications and Review
Display
Size: 5'7 HD.
Resolution: 1280 * 720 pixels.
Coming to the display, the phone comes with a resolution of 720 x 1280 pixels. I wish this was improved since the screen is relatively large at 5.7 inches.
Camera
8MP Front + 13MP Rear Camera
You also get the normal specs we are used to when it comes to the shooters. With the V20, you get yourself an 8MP front facing camera and 13MP rear cam. It has features such as panorama and autofocus to help you take professional photos.
Hardware
Processor Type: Octa Core 1.5 GHz
OS: Android 6.0
The smartphone also comes with android 6.0. You will run almost all apps on this because you get an Octa Core 1.5GHz processor.
Network
Type: GSM + WCDMA + LTE
SIM Card: Dual SIM
Another nice feature of this phone is the fact that you get dual sim capability with 4G LTE for faster internet connectivity.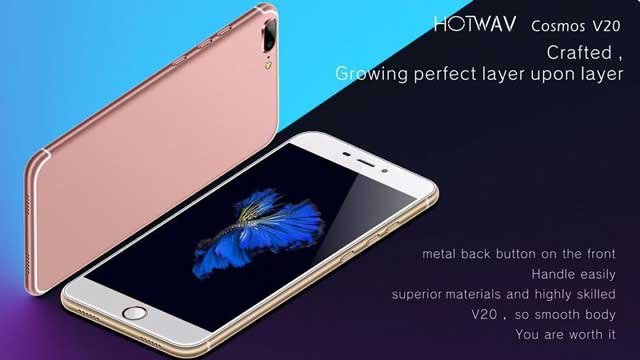 Connectivity
WiFi, EDGE, GPRS, Bluetooth, USB
Memory
3 GB RAM + 32GB ROM
Support TF card up to 64GB
With 3G OF ram, the Hotwav V20 is capable of running many applications at the same time. This ensures that the performance is top notch. At the price, you won't get a similar phone in terms of specs and features.
To add to that, there is the 32GB of internal storage. You can thus, be able to store thousands of music, install large apps and store some files.
Power
Then, there is the 3500mAh battery. I've usually had good experience when it comes battery capacities of more than 3000mAh, so I can confidently vouch for this.
Reasons to Buy
Fast internet connectivity.
Large storage capacity.
Good performance.
Long lasting battery.
Dual Sim capability
The Bad
Poor Quality Camera
Price in Kenya
About Kshs 8,000